1978
Esan was established to supply raw materials to ceramic factories.

1979
Turkey's first Clay Beneficiation Plant was established.

1985
Turkey's first Feldspar Flotation Plant was established.

2004
Ukraine office was opened.

2005
Esan Italia was established.

2006
China office was opened.

2008
Bentonite Facility was established in Bozüyük.

2009
With the commissioning of Balya Kurşun and Zinc Plant, Esan entered metallic mines sector.

2011
Kosovo office was opened.

2016
Esanmet was established in Portugal.

2017
Inlice Plant was commissioned.
Esan, established in 1978 to produce high quality raw materials for the ceramics sector, became one of Turkey's foremost industrial mineral and metallic mineral producers and exporters of Turkey since its establishment.
Esan, who accomplished many pioneering initiatives since the beginning, has established Turkey's first clay enrichment plant in 1979, and also Turkey's first feldspar flotation plant in 1985.
Esan, as the producer of Industrial raw materials until 2009, notably feldspar, quartz, clay, bentonite and kaolin which are modern life's irreplaceable source of products, from glass to technology continued to whose innovations in metallic mines by establishing lead and zinc mine in Balıkesir Balya.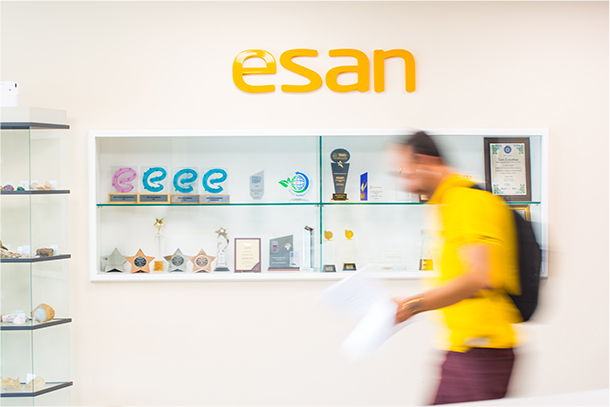 Esan creates more than 2500 employment volume today and is in action with 40 pits. Minerals that are hoisted from these pits are processed in 8 different plants which are stated in Aydın, Balıkesir, Bilecik, Çanakkale, Eskişehir Konya, and Muğla.
Esan with the aim of sustainable development in new areas, in regard to past experiences, continues its works in the area of metallurgy by establishing Tukey's first, Europe's only primary magnesium metal producing plant.
Esan also started to sales and marketing of the commercial products such as different sector's chemicals, minerals, and heat insulant and furnace equipment in addition to sales of industrial raw materials and metallic minerals produced by Esan. Today, with more than 150 products, Esan enriches life by serving foremost ceramic industry, welding electrode, glass, refractory, enamel, abrasive, dye, plastic and composite stone sectors.
Esan, which currently exports to more than 40 countries, , has established Esan Italia Minerals Company with the aim of serving better to the customers abroad. Esan also operationalized representation offices in China and Ukraine. With the establishment of "Esanmet" in Portugal in 2006, the development of Esan abroad is continuing.
Esan, which is aimed at the best quality and productivity by providing raw materials for a long time, both prospects new mines and works for the development of existing products and processes with research and development.
As one of these actions, studies were performed on processing bentonite sources, in an effort to be used in different industries. As the result of these studies, by developing first end-user product "Pisipisi" cat litter added a new family to Esan's value circle in 2010. Esan carried on works about nanoclay that is produced by few companies all around the world. Esan became the first organization in Turkey which produce nanoclay in industrial scale by enhancing minerals' features of incombustibility, mechanical endurance, gas permeability, and anti-bacterial.
With the perception of sustainable mining, Esan, which cares for workers' and society's health excessively, aims at contributing to social and environmental sustainability in the regions operations take place.
With the aim of local people's sustainable development, Esan executes various short and long term projects such as local employment and purchasing policies, developing local people through training to create qualified employees from the regional workforce, social pragmatic enterprise with the purpose of supporting empowerment of individuals who are out of our workforce, sponsorship and donations. Another sustainability policy of Esan is to minimize the effect of activities on environment and neighborhood. With this aim, comprehensive environmental management and occupational health and safety studies, intelligent solutions for efficient use of energy and water resources, proactive approaches such as dust control systems, planned abandonment, and reclamation and rehabilitation studies are carried out.
Keeping a sustainable environment at the center of responsibilities, Esan is working to increase the use of renewable energy resources in order to reduce carbon emissions. As a result of these works, Esan has established the unlicensed roof solar energy plant with the highest installed power in the region to meet the energy demand of the Güllük stock area and Turkey's largest solar power plant for self-consumption in the facility in Eskişehir Çifteler. Esan prevented more than 2 million kilograms of carbon emission per year thanks to these two solar energy plants. Thus, the company is working with the understanding of the new era by providing all the electrical energy needs for the facility with renewable methods.
Esan believes that it is necessary to carry out business in world standards to move forward and has the certificates of ISO 9001 Quality Management, ISO 17025 Laboratories Accreditation Management System, ISO 14001 Environment and OHSAS 18001 Occupational Health and Safety Management System.